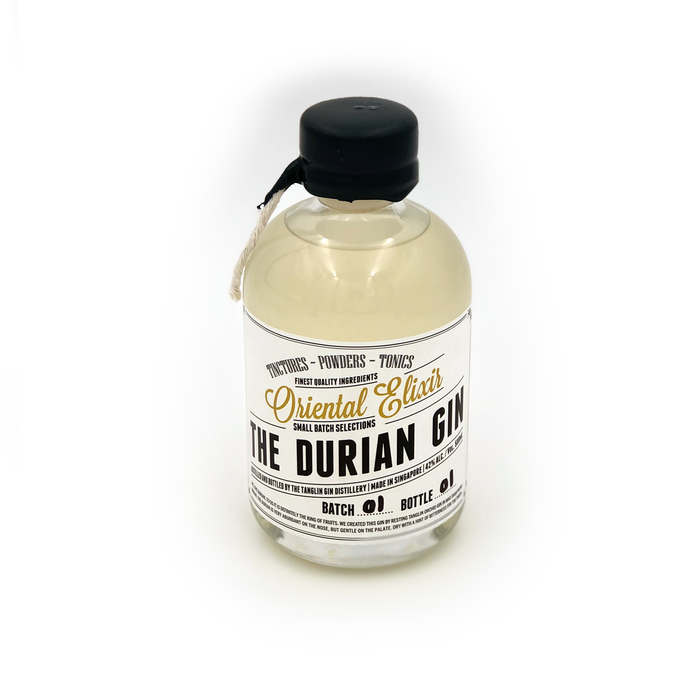 Oriental Elixir Durian Gin
Save up to

0

%
Save %
Original price
$129.00
-
Original price
$281.00
This is the fourth and most controversial release from Oriental Elixir — a collaboration between The Spiffy Dapper and Tanglin Gin Distillery. This gin was created by resting the Tanglin Orchid Gin in
Mao Shan Wang Durian.

The Mao Shan Wang is sticky and gooey but also bittersweet, making it a perfect addition to a gin.
Durian is a very heavy fruit, so we have made the flavours of Durian in the Gin to be very gentle. You will find the gin to have subtle notes of Durian on the nose with a gentle crisp bitterness on the palate. 
Durian lovers: Yes we can make a gin that is heavier on the Durian. That is on the way. We may release it if enough folks want to get it. Make some noise and let us know. 
Where do we Get Our Durian?
We sourced our Mao Shan Wang from Raub, Pahang as the soil there is very suitable for cultivating durians and because it is in the highlands, Raub does not have serious pollution. Without air pollution, the durians they produced are of exceptional quality.
The flesh of the Mao Shan Wang is then rested in Tanglin Orchid Gin for 48hours before being filtered and bottled.
Why is the Durian Gin Cloudy?
We wanted to keep as much of the flavour of the Durian as possible without it being overpowering. And we found that this version tastes the best even though it looks a bit cloudy. 
What is the Best Way to Enjoy the Gin?
The gin works well in cocktails and in G&Ts and it is a great way to introduce friends to Durian because of how gentle it is on the palate. 
We recommend a ratio of 1 part Durian Gin to 2 parts Tonic Water. We would suggest a herb like rosemary or thyme to complement the durian in the gin as a garnish. A slice of grapefruit will also work wonders. 
Try a Durian Negroni, it will rock your world.
Optional Cocktail Kit + Masterclass
You also have the option to add on a cocktail kit with a masterclass. This kit includes ingredients for up to 10 cocktails. The ingredients will stay true to Oriental Elixir — weird but some kind of wonderful. You will get the ingredients along with the tools in a kit. Then you can get a Zoom call with the bartenders to learn about the ingredients and how to use them.
The kit includes ingredients for the following style of cocktails.
2 x Martini Style
2 x Negroni Style
6 x Sour Style
Optional Tonic Waters
We have the option to add a mixed-pack of craft tonic waters to experiment with. These tonic waters have been chosen for the unique perspectives each can offer when paired with the gin.
Fever-Tree Indian Tonic
Fever-Tree Mediterranean Tonic
East Imperial Old World Tonic
East Imperial Burma Tonic
East Imperial Yuzu Tonic
London Essence Grapefruit & Rosemary
Bottle Size: 500ml
ABV: 42% ABV